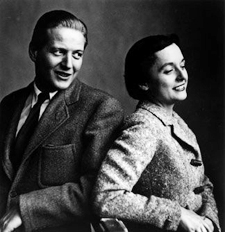 Knoll's twenty year association with Swiss graphic designer
Herbert Matter
(1907-1984) began with the development of a new Knoll logo in 1947. Prior to Matter's arrival, most of their advertising had been designed by
Alvin Lustig
(1915-1955) and a few others. Matter's refined graphic style gave a modernist tone and European flavor to Knoll's presentation. He supervised product photography as well as layout and design of all print material and created brilliant ads and ad campaigns.
Matter and Florence Knoll worked together doing showroom design, catalog layouts, and sampling systems for textiles. Although it was Florence Knoll's decision to place ads in magazines other than the customary trade journals of the day, Matter's imprint was a central component of the transcendence of Knoll as a brand. Giving Knoll a graphic personality which closely matched the overall sense of consistent style Knoll was trying to achieve, Matter later went on to great success with his own design studio, design director for the New Haven Railroad, and professor of photography at Yale.
In 1967, Massimo Vignelli was asked to design a new graphic program for Knoll, which he considers to be the most exciting and rewarding of his professional career. Vignelli's graphic program, which established a design grid to unify all visual and promotional aspects of the company, had a profound impact in the furniture industry, becoming the model for other manufacturers. Vignelli also planned and mounted the Knoll exhibition at the Louvre Museum in 1972. Knoll as a presence on the graphics horizon would not have been possible without photography to match the typographic design. Vignelli believed that photography also conveyed excellence in a very important way, and hired master photographers like Jon Naar, Aldo Ballo, Mario Carrieri, Guy Bourdin and Don Kennedy.
Knoll's concerted emphasis on integrated furniture systems had a powerful impact on its overall graphic direction. The real task for Knoll was to take things that were not intrinsically good graphic design elements and make them powerful graphic ideas. Towards this end Knoll designers experimented with photography and typography, always pushing the boundaries between the acceptable and the exceptional.